DIY Building (tools) Section
Everything for the professional builder or DIY job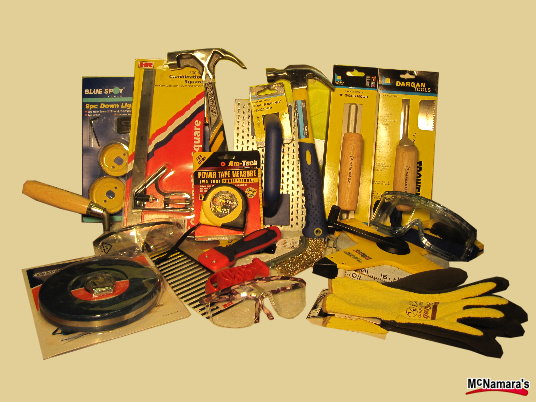 A general summary of items includes:
A full range of tools
Hammers ( small pin, 16oz 22oz - ball)
Mallets
Chisels ( single sets)
Screwdrivers - Sets
Spanners, wenches - Complete Car tool sets
Car jacks, break down Jump starters boxes
Jump leads
Plastering Hawks, trowels, floats, buckets, combing forks .
Cements mixers
Extensions leads various lengths
flood lighting
Angle grinders, Bench saws, Hand drills
A Full Range of drill bits for masonry, steel
Diamond tipped grinding stone cutting supplies
Electric fires & Gas blow torches
Welding equipment and gas / electric solder irons
Carpentry Saws all sizes and teeth range.
set squares, roofing squares.
Tapes measures - precision micrometers
We have thousands of tools and we are constantly getting new one in stock.

* we sell both Professional tools and entry level tools - it is important you use a tool for it's intended purpose to ensure it's life and generally of course, if you have a lot of work to do it will actually get done quicker by ensuring the tool is of a professional standard to take the stain.

* We recommend always wearing eye protection, gloves and industrial boots to ensure your safely. If using loud power tools ear muffs are also in stock and are advisable. Please ask in store if you have any questions.

Q: Mr McNamara you always have the latest tool when I go into the shop was the one handed hammer a big seller ? "YES it enabled people to place a nail in the hammer head and tap a nail into place and then turn the hammer around and drive the nail home. All the time they could ensure that their other hand was holding onto their work ladder when working up at a height". Wow I see and practical - I Want one!!!