HouseHold Section
All your house hold needs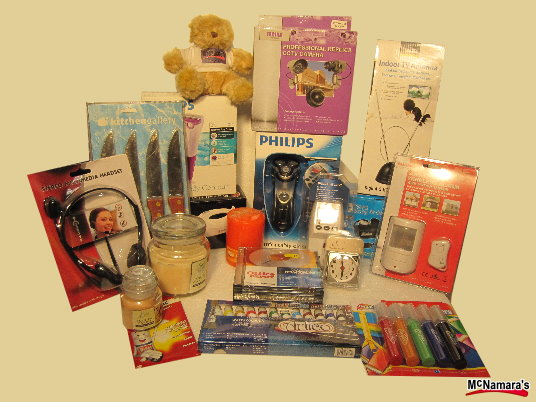 A general summary of items includes:
Kettles, Lamps, Toasters
Computers Cat5e cables, USB leads
Candles, Gifts, Clocks, Children's games
Electric fires, mats , Cups, kitchen accessories
washing lines, indoor/outdoor lights, cameras, pest control devices, gardening accessories, car accessories and tools. Fuel needs include Coal, Briquettes, Peat, fire starters
And another 900 items at great prices!!!
We stock anything that a person asks for !!

Q: Mr McNamara do you sell led touches -YES"

Q: What about batteries "YES - small ( electronic batteries to large Farm size batteries)"

Q: OK but I bet you don't cut keys - "YES we have a key cutting machine on the premise".

Q: OK but do you have Clocks where Robins pop out and sing songs "YES we do however they only sing in English , the other langanges speaking clocks are on order"!!!!