Fixings Section
Everything needed to complete that job quickly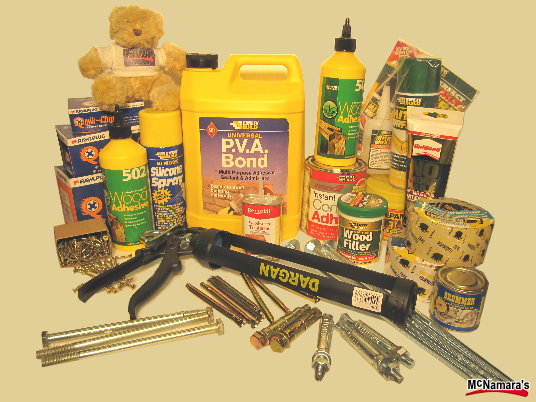 *PLEASE ensure you use the products carefully by following the instructions and wear suitable safely protection. Please read the general safely notes below.
A general summary of items includes:
Nails ( narrow head, Steel, roofing nails, copper nails)
Screws ( Slot/Philips all sizes - durable heads - drive)
Wood & all purpose adhesive
Industrial strength adhesive
Super strength adhesive
Weatherproof adhesive
Masking tape - waterproof tape
Builders quick fix window board adhesive (pinkgrip)
Silicon anti-mole indoor and outdoor adhesive jointer
Sealant guns
Plumbers putty
Waterproof grout & Tiling adhesive (for wall & floor tiles)
Pollyfiller - boxed & tubed
Expanding foam filler.
Protective boots, gloves, glasses and clothing.
quick drying cement.

* note you will need a sealant gun to apply silicon tubes

* Please ask in store for recommended product use as each product has a different set time and strength of fixing

* PLEASE ensure you wear PROTECTIVE GLOVES, YOU MUST WEAR eye protection if working above your head and it is advised that you wear eye protection to fully protect yourself encase you rub your eyes. You should wash your hands after use to avoid any chance of eye infections and before eating. Do not leave the materials unsealed after use and ensure they are out of the REACH OF CHILDREN. Do not transfer any product to a container where you have not labelled it as it could cause injury to a third party unaware of it's contents. Do not burn any product as they can give off position fumes and / or create a explosive reaction.

*THINK SAFELY Ensure you read the instructions fully before use and that all surfaces are clean from dust and oil.

* Cement products can cause burns and superglue products can bond skin in seconds - always wear gloves and protect your eyes and use products in velted areas to allow fumes to escape.